HELIX delta-T Documentation and Help Files
Helix delta-T6 is supplied with a very comprehensive context sensitive Help file with index and search facilities.
Helix delta-T6 Help File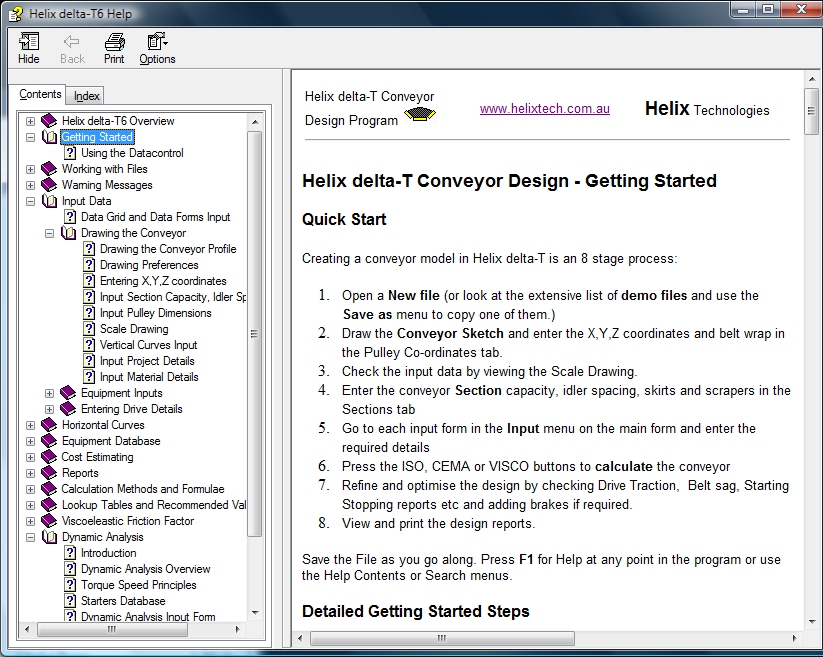 To get help anywhere in the program all you need to do is press F1 and the relevant Help topic will be opened to guide you through steps of using the program.
The Help file has
111 Topics
511 Local Links
131 Internet links
279 Graphics
The Help file shows the user the formulae and calculation methods used. There is a Step by Step Getting Started guide and the program is provided with more than 30 sample conveyor design files so that you can see samples on how to build models of all types of conveyors from Belt Feeders to long overland conveyors with multiple drives and horizontal curves.
This all adds to up to a very good help tool and it is also a valuable reference. You can download a copy of the Helix delta-T6 Help file from the Downloads page on this website or click this link: Helix delta-T6 Help file - 39Mb file size