Helix Engineering Software
Helix Technologies specialises in Engineering Software Development. We have a number of standard programs for Conveyor Design, Conveyor Dynamic Analysis, DEM Chute Design, Pipe Network Analysis, Pump Selections, Vee Belt & Chain Drives and Share Portfolio Management and Project Investment Analysis
See our new DeltaT Online Conveyor Design Software at www.helixconveyor.com
Online WebApp - No installation required
Tension and Power Calculations including graphs
Draw a sketch of the conveyor Profile and also view a scale drawing and a 3D line model of the conveyor
Calculate using CEMA, ISO 5048 or the Viscoelastic method
View and save pdf Reports
Store all of your conveyors online
Share conveyors with other users
Backwards compatible with the existing Helix DeltaT6 .xml conveyor files
Delta T Online Introductory Video Long
See our new Helix DeltaD Online Conveyor Pulley and Shaft Design Software at www.helixdeltad.com.au
Online WebApp - No installation required
Pulley Shaft Calculations to AS 1403 Standard
Design Conveyor Pulleys and Shafts
Calculate Shaft Hub and Bearing Size Required
Includes Shaft Mounted Drive overhung load calculations
Calculate Pulley Shell thickness (uses Sitzwohl and MHEA methods)
Calculate Pulley End-Disc thickness (uses Schmoltzi method)
Calculates the Shaft deflection (Slope (radians) and Deflection in mm
Store all of your conveyor shaft design projects online in a secure database
Bending Moment Diagram Included
Import Pulleys from the existing desktop Helix DeltaD .xml conveyor files
Print Reports to PDF
Helix delta-T6 Conveyor Design
Helix delta-T6 is a powerful Windows&reg based belt conveyor design tool and it includes conveyor equipment databases for Belts, Idlers, Pulleys, Motors, Gearboxes, Fluid Couplings, Holdbacks, Brakes and Couplings. Helix Technologies' research and development of this software began in 1992 and delta-T now has more than a thousand users in 25 countries who depend on the program to provide consistent, accurate and cost effective belt conveyor and material handling designs.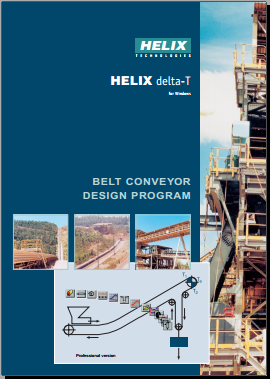 Dynamic Analysis
2D Belt Tensions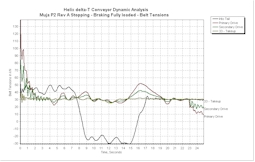 3D Belt Tensions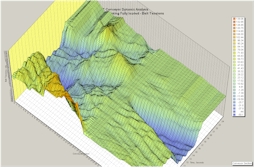 View detailed brochure (pdf file)
Helix DEM Chute Design
Helix DEM Chute Design is an engineering design tool which combines CAD Drawing and 3D Modeling with a powerful calculation engine to predict the motion of particles in a transfer chute. The program allows the user to quickly build a model of a bulk material transfer chute station and then to perform calculations incorporating the Discrete Element Method of predicting particle motion through the chute. The motion of the particles is displayed in a 3 dimensional model on the computer screen and the design engineer can quickly add, modify or move the chute surfaces to allow the material to flow through the transfer efficiently. The program eliminates the need for the design engineer to guess what the material flow trajectories will be in the transfer.
Download brochure (2.7Mb PDF file)
Helix delta-Q Pipe Networks
Helix delta-Q is a powerful tool for engineers and equipment suppliers to quickly and easily design and optimise pipe networks for compressible and incompressible fluids. You can produce economically and technically sound pipe system designs in a very short time.
You can calculate friction losses and pressure drop in pipes and fittings for Liquids, Slurries and Gases. Model complex process flow pipe networks and solve for unknown flow rates and node pressures at the press of a button. Retrieve data from user accessible databases for Liquids, Slurries, Gasses, Pumps, Pipes and Fittings or add your own data.
See our new DeltaQ Online Pipe Network Analysis Software at